Skip Hire Newcastle
Local skips for hire and waste removal service – serving all of Newcastle.
Construction, remodeling, DIY-ing; these projects generate waste that has to be disposed of. There's an affordable, one-step solution for getting rid of it. That's to take advantage of skip hire services, a practical and rapid response to commercial and domestic waste removal situations.
Only licensed professionals in the proper and safe disposal of waste. We help people and businesses with sustainability. We help improve brand value, to enhance reputation and appearance, and, most importantly, help the world be more efficient. Sustainability is a duty we all carry.
Whether DIY projects or office building remodeling, putting a skip on the job will be essential. Bathroom or kitchen refitting, industrial construction sites, in Newcastle, a skip hire makes your job easier and keeps us safe and clean throughout the UK.
Table Of Content
(Jump to the section of the content by clicking)
Outside the greater benefit of public safety throughout the UK, skip hires are contracted for many reasons. One of the best is that this is a convenient and affordable path for efficient waste disposal.
Bulk Construction Waste
There are big jobs that produce mounds of waste products. Constructions sites and a seemingly small job like redoing a driveway or pavement could make great use of a skip hire. You don't want to haul disposal. Only contracting a high volume waste removing skip hire can save you time on collection and disposal.
Domestic Use
Any renovation to a home is going to unleash a tonne of waste. Knocking out a wall, fitting a bathroom, or remodeling the kitchen or basement, at some point, everyone has a build up of waste. Let a skip hire help you get rid of it.
Waste Clearance
From relocating to replacing furniture, unwanted waste is best managed by a skip hire. It's an immediate solution. Your waste will be taken to a transfer station where it will be sorted. Materials can be recycled, taken to a landfill site, delivered to an energy facility, or processed in other safe and legal manners.
Landscape Clearance
Whether doing a clear out or performing a major reconstruction, that work in the garden is going to produce a lot of waste. That organic matter will create a mess of leaves, twigs, grass, soil, lawn, turf, weeds, and that's just a start. All this and more can be safely disposed of with a skip.
Commercial Waste
In every industry, commercial waste is a by-product of conducting business. Business waste is anything created from commercial activity. Depending on the industry, levels of harm to health and the environment goes up. Community-minded businesses have to dispose of waste in responsible and adequate manners.
What CAN/CANNOT be Removed by a Skip? Most common questions.
What can you put inside a skip?
We dispose of waste responsibly. Waste has to be evaluated before a skip hire can be deployed. This means assessing need and following rules and regulations set up to prevent improper disposal of waste. In that regard, a skip hire is not allowed to take just anything in a container.
What CANNOT Be Removed?
Asbestos
Batteries
Bulbs
Chemicals
Electronics (tv, fridge, freezer, a/c, etc.)
Gas bottles
Medical (paraphernalia, medications)
Oils
Full Paint Tins [1]
Pesticides
Plasterboards [2]
Rubber materials (tyres)
Toxic items
[1] Empty paint tins are allowed.
[2] Possible with a separate bag, ask for more information before booking.
OK. What CAN be?
Green waste
Soil
Branches
Furniture
Empty Paint Tins
Tiles
Bricks
Mattresses [3]
Clothes
Metals
Wood
Cardboard (paper, books)
Plastic (Toys)
[3] Ask for more information before booking, additional cost may apply.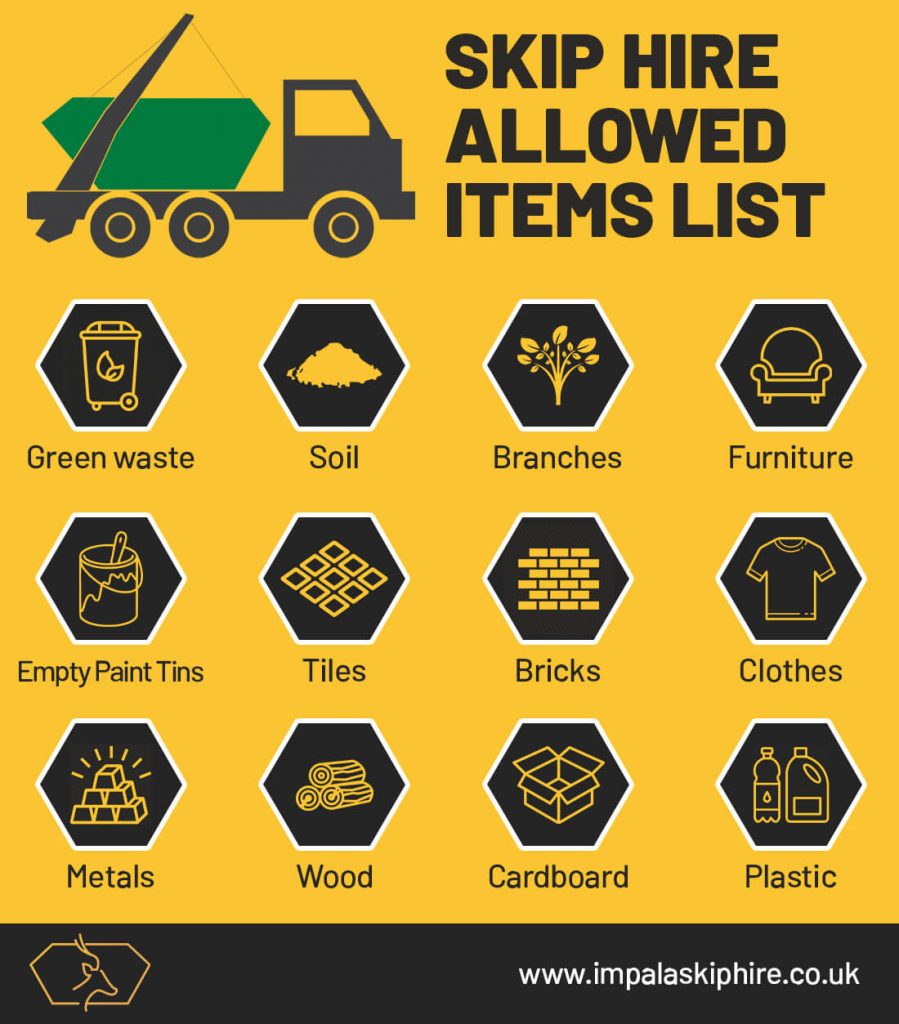 You don't want to work with a skip hire with a willingness to take everything. The laws were placed for legitimate reasons, all grounded in keeping communities safe and sustainable. An example of this: after a study in 2011 of common waste material, there was a determination that all plasterboard material, when left in a mixed waste setting, was likely to emit dangerous gases during decomposition. For health reasons, regulations were set to manage separate disposal for plasterboard.
Removal must always be managed with a deft and cautious hand. A licenced skip hire will go over the expected accumulation of waste with you, and if not allowed to remove an item, we will counsel on what needs to be done to dispose of, say, the refrigerator or a computer screen in a legal and safe fashion.
Remember, with the contracting of a skip hire, you ensure:
Waste management in eco-friendly ways
Protecting communities from harmful toxins
Disposing of waste in one rapid go
Help managing the work area
To best fit budgets and requirements, skip hires employ a variety of determinants in order to help you get your project done in the most affordable and efficient way.
Size will be a critical component. Skips (containers) are available in a range of sizes, measurements, shapes, and length. You don't want to spend on a skip too large or too small. Either choice can waste money and quite possibly throw off your project calendar as you could (a) end up with waste that doesn't fit in your skip (forcing you to wait and pay for additional waste disposal trips) or (b) your load wasn't large enough and now you've spent too much.
A good skip hire will help you here. A garden project won't require the same dump materials as a building dump. For your convenience, skip hiring has been broken down into a range of categories in order to closer define your needs.
Small or Large Skip? - Sizes Gude
Mini Skip
Perfect for smaller projects, like gardening or refitting, these are available in 2 and 3 yard sizes and can efficiently handle the waste accumulated. They promise to be efficient because:
They're cost-effective for domestic projects. Save time and mess dumping waste material in a skip.
In more congested areas, a larger skip can be impractical. Convenient mini skips can manage up to three tonnes of waste without taking up a lot of space.
Their effectiveness makes mini skips a popular option for domestic and smaller projects.
Builders Skips
This is the one for projects involving concrete, soil, and other commercial items. Six cubic yards in size (at minimum), both households and businesses make use of this option. For this option, waste is black bagged and tossed into the skip.
These builders are convenient for large scaled jobs where rubble is a big part of the project.
Skip (no pun intended) hiring waste disposal trucks or going back and forth to dump sites yourself.
Save time, money, and fuel and transport costs.
The builders skip is popular with office reconstruction and home renovation.
6 Yard Skip
Most Popular for Domestic Use
Maxi Skips
Measuring 12 cubic yards, the maxi skip allows for greater bundles of waste. These skips need greater physical on-site space. Mainly used at commercial and construction projects.
Having maxi skips on-site helps keep work areas clean and safe, and the convenience is invaluable.
The popular choice for users whose sites need to get rid of huge, bulky debris and waste.
RoRo Skips
RoRo is short for Roll on, Roll off. These skips measure between 20 and 40 yards in size. They are typically utilised in large commercial projects. They are not necessarily compatible for domestic projects as they require a significant amount of space for placement.
The convenience is these containers, equipped with doors, roll on and off with ease.
This process is ideal for waste removal on huge projects with large amounts of waste to get rid of.
Popular in the construction business as this industry finds itself with great amounts of disposable rubbish and waste.
Lockable Skips
There are projects that require security. This skip is lockable, ensuring only specific waste elements or placed in them, and nothing is removed or exposed. Secure skips come in a range of sizes and configurations.
Users appreciate the convenience of secure skips. They add an extra layer of security and safety to the premises.
Strong and robust, they can be secured with padlocks or chains.
With features like doors and lids, these devices tend to be popular.
What're Skip Hire Prices in Newcastle?
Prices in skip hires are determined through a number of factors. The biggest influences are location, skip hire permit (needed in certain locations), and hiring duration.
Pricing by Size
The determinant with the greatest impact is skip size. In general, the size will impact nearly 90 percent of the total price. The larger the skip the more you end up paying. In order to make sure you have an understanding of the guidelines for skip sizes, succinctly break down your disposal plans and needs. It could save you money and time!
The skip hire will be responsible for removing the waste containers. Keep in mind, recycling is important to both the skip hire and waste removal industry. Somewhere around 80 percent of collected rubbish will be recycled and knowing what should and shouldn't be included can save you money too.
Costs of Council Permits
Should you place a skip on your personal property, no permits are needed. However, if your skip must be located on any public road/highway or area, a permit must be acquired. There can be hefty fines if users do not adhere to this. Putting your hire in the wrong place can get your skip removed with no notice and get you fined. Check the council website and apply for a permit.
Typically, the provider of your skip hire will get the permit on your behalf and add the cost to the final bill. There are circumstances where issuances of permits must be requested directly by the person or company which will be using the skip. Make sure this matter is covered before you hire a skip. Also, add up to four days to your project as it can take that long to get a skip permit.
Time
The longer your project the more the cost for the period in which the skip is utilised. This also applies to the cost of your council permit, as its terms will include length of time. Skip hires do offer deals based on unlimited hire periods. Most council permits for skips are valid for two weeks to one month. If your skip is planted on council land, you may need renewals or extensions, which bumps up overall expenses.
Always be ready to ask questions and double check what you've been advised. Fully discuss your options and costs. Having a skip is a great decision for collecting and disposing volumes of waste, but be a smart consumer. Take the time to know what to expect in the long term of the hire.
Hidden Charges
In honest and responsible skip hiring, there will never be sudden charges to the final bill. The only additional charges may result from not adhering to the list of items that cannot be disposed of in a skip[4]. This is prohibited by law and the skip user can always be held responsible, regardless of how far down the disposal chain waste gets.
VAT. It's also a good idea to double check VAT calculation into the final price. Skip hire providers may give you a quote that doesn't take value added tax into account. Taking you by the company and not an individual. Check it before hiring your skip.
Urban and Rural Regions
Prices will be the same in different regions. The cost of running a business is different and in turn, an uptick in pricing. Plus the cost of a permit in a big city is up to 3 times higher than in smaller towns.
How Can I Reduce Skip Hire Service Costs?
Avoid Council Permits
Not meeting the requirements of skip hire laws, you could face a fine of up to £1,000. Depending on the location, requirements can include traffic cones, safety lamps, coverings, and reflective markings, all at your expense, if not the skip hire services.
Don't Place Restricted Items in Skips
Putting specific types of waste in skips is against the law. You could find yourself being charged extra by the skip company and, in some cases, fined for not complying with skip hire rules and regulations. More importantly, there are environmental concerns about mixing certain elements, such as the aforementioned plasterboard [5].
Never Overload the Skip
It's not necessarily about tonnage when it comes to overloading a skip. You've passed the point of no return if waste exceeds the height of the skip walls. Many skips have a 'fill line.' If an overload makes the skip heavier than agreed, it can damage trucks, lift mechanisms, and operatives. A responsible skip hire won't take the load, knowing of the potential threat. You end up paying more to split the load and wasting time splitting the load.
Try Splitting the Cost
A good opportunity to save money on a skip hire is sharing the expense with neighbours. You also get the benefit of not having neighbours flood your container with their waste when you're looking the other way. See who in the vicinity may want to toss out some waste and wants to avoid the usual rigamarole of disposal. If you're not up for knocking on doors check out Nextdoor. The site calls itself a neighbourhood for connections and the exchange of goods, information, and services.
Book in Advance.
Booking a skip hire at the last minute can cost you extra. Advance booking can lead to significant savings. It leaves wiggle room for early bird discounts. Depending on the size of the project, try to accumulate as much waste as possible before requesting waste removal transport. Also, take into account the biggest projects are seasonal. The busiest months for hires tend to be April and May.
Live Update of how busy the Newcastle skip hire is across our industry. Basted on average searches and interest on Google search engine.
What Not To Do With Your Skip?
Overloading the skip is irresponsible, a threat to everyone's safety. Heavy containers can damage machinery. Waste will dangle, overhang, or protrude. It could fall out and harm pedestrians or drivers.
Do not put items in the skip that are restricted. These items have regulations for disposal, of which your skip hire has not been regulated to manage. Hence, they aren't certified to dispose of medical waste, solvents, and other materials.
You don't want to leave your skip on a highway, or any public area unless you have a permit.
Try not to put your skip on soft surfaces or sensitive landscapes like the lawn. These surfaces can be damaged by the skip.
Never leave a skip where it blocks traffic, pedestrian or vehicular, in any way.
What Papers Can I Expect?
You will be given, upon drop off of the skip, a delivery ticket. When the skip hire company returns to remove the skip at the end of the project, you get a waste transfer note. This information will contain everything you need, including the date, details of the waste removal, and the company's information.
How long can you hire a skip for?
Typically, user projects may require a skip for no more than seven to ten days, depending on the function. Contracts can be extended. Same day skips are also available but it depends on how busy it is. Simply ask about availability.
Where Does My Waste End Up?
The skip hire is trained and prepared to do what's best to maintain a healthy environment. Recycling and repurposing — avoiding taking waste to a landfill — will be a priority. Waste will be isolated and separated. Processes like compaction, shredding, and screening will be applied as needed. In the final process, waste removed from project sites will be responsibly placed at recycling plants, delivered to a landfill site or energy facility, or disposed of in safe and legal manners.
Use your skip hire to everyone's advantage. We're talking about safety measures, streamlining processes, and saving pounds. We've seen too many people who ended up with scattered waste and unwarranted expenses because they didn't do so.
Impala Skip Hire are professionals at this trade. We understand how to help you run an efficient, inexpensive, and wrinkle free skip hire process. This includes breaking up waste into smaller pieces and giving yourself more space in the skip. Getting heavy and large items in the skip first. Utilising flat items for the best layout, such as tables and boards, where other items can be stacked on them.
Another error many make is going for the low cost and not a skip that fits the requirements of their project. You'd be surprised how many users end up with a dysfunctional hire because they opted for the wrong size, misused the skip, or found themselves needing two skips because they didn't accurately gauge their needs, even to the point of creating extremely hazardous health threats in their communities.
Our service remains a popular waste disposal solution in Newcastle. Impala Skip Hire promises timely deliveries and safe pickups and eco-friendly disposal of waste materials. We promise convenience and affordability throughout the waste disposal process. Stop worrying about where the waste will go and focus on the project. Contact Impala Skip Hire and learn what a responsible and professional skip hire can do for you.
Call Us Now!
0191 814 4277